Yay for Trapping!
Many many thanks and much aroha to Rowan, H, Bruce and Anne for their hard and dedicated work,
and also arohanui to H for his stealth in taking out 6 goats on this initial trip for laying traps.
None of this would be possible without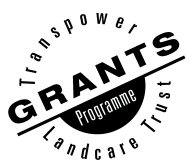 20 October Report
Went in today to check the traps. Only 1 rat in no 17. A bit disappointing to say the least. The weather has been wet all week the track is very wet and slippery.We tried plotting the positions of the traps with GPS . The total spread is 1.87 km for 30 traps or 62.33 meters apart on average. The minimum unit of measurement on the machine is 100 meters so its impossible to determine the exact spread. Some are much closer together than others.

12 October Report
Greetings trappers.....Walked the line on tuesday,nice day but very wet on the ground. we got 5 rats and 1 stoat. The rats were in traps 0 15 17 20 & 24. The stoat was in no 21 and was a big sucker. It was at least as half as big again as anything caught before. We did not actually see any goats but we heard 3 separate groups and there was more fresh pig rooting. I have borrowed a GPS unit and as soon as I figure how drive it we will plot the trap positions and work out the spacing.


First week of October - one dead stoat could mean one live Kiwi, or other native Bird, or even more yeah!!

Last week of September - we have 2 stoats and 8 rats!! Yay.

And a week later.....we have three out of 40 with victims! Thats potentially three more kiwi that get to live! (The date on the pics is wrong - these were taken the first week of September 2004 - thanks Bruce & Anne.)

Many thanks to Rowan for these photos

Thanks to H for these pics!