2022
We successfully applied for a grant from the STDC's Natural Environment Fund. This will contribute to purchasing more traps to extend our pest control lines, and will work in conjunction with TKT and neighbours.
Big plans ahead too for working especially with TKT to prepare the whenua for kiwi release within a few years.
Wayne and Cathy found a decent sized paper wasp nest - literally ~1.5m high and about 1m diameter... 7m up a tree. They dealt to it with Vespex and later,with Rawiri Walsh, finished it off properly in spectacular style. That's Wayne holding the ladder with Rawiri doing some wasp damage, and Cathy being the sane one behind the camera lens.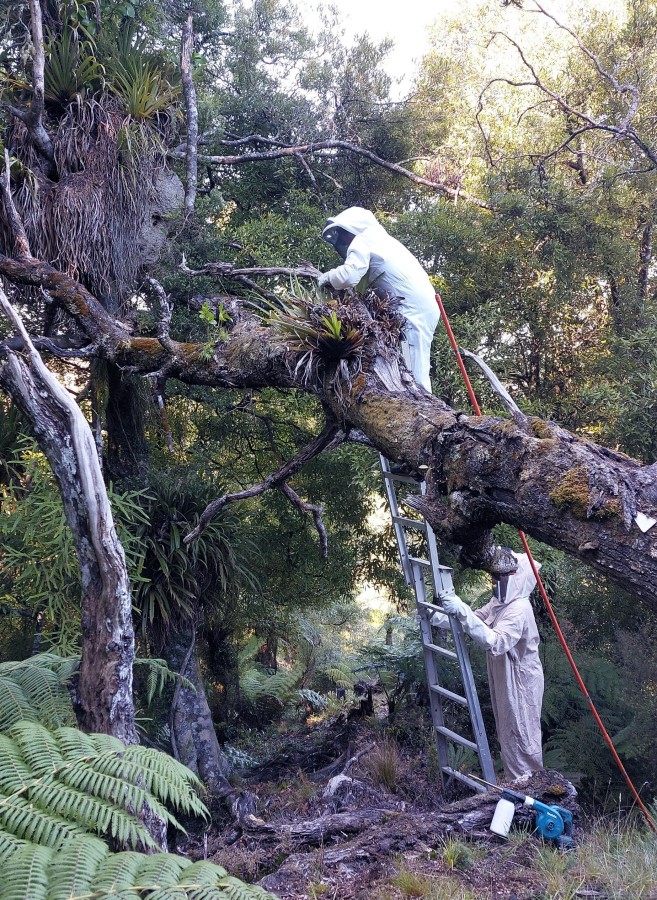 And despite installing a new batch of traps in the middle of Taranaki's 5 February deluge, in April we found our 12 AT220s had caught 93 possum since the beginning of the year. The only buzz kill is that these carcasses be will providing protein for wasps and food for the stoats that have been filmed dragging off the carcasses.
2022 - February
Jess attended her first classroom session with Waverley Primary School. This was to give an overview to the students about kiwi, and the Mt Hiwi project which is so local to them.
2021 - December
Purchased 10 of the AT220s, but yet to get them out. Jess wrote another article for the Patea/Waverley Press, and took two healthy eggs for incubation.
2021 - October
TKT has installed a new trapline up the entirety of Omahina Road. Braemore Road and Okahutiria Road to follow!
2021 - August
Visited with neighbours, and found a pile of dead possum beneath the AT220 traps we trialed. Woohoo.
ALL YEAR LONG! Wayne and Cathy have been keeping the place tidy. Trap checking, whenua enjoying, invertebrate monitoring...
2021 - July
Celine and Jess from TKT attended a community morning tea at Waverley library. A great opportunity to chat with people in a more casual way about kiwi and the Mt Hiwi project, as well as getting known in the community. Jess also set up a display in the library. Two weeks later she gave some talks at both Waverley and Patea libraries as part of the school holiday programme. She wrote an article for the Patea/Waverley Press. And as a result two lots of people are now being trained as trap checkers for the Omahina Road trapline.
A kiwi listening survey was held on the whenua and surrounding area. It was great to have the surrounding landowners involved, as well as getting some DOC and TKT volunteers out to visit the area.
2021 - May 22
8pm after dinner. We've just had a cracker of a day, first a 3am stroll down Foxton beach under the milky way, before not enough sleep, then catching up with a neighbour on the way to the International Day for Biodiversity 2021 at the Aotea Utanganui - Museum of South Taranaki in Pātea. We had fantastic presentations from Chauncy (Towards Predator-Free Taranaki), Leicester (the Pātea Planting Trust), and Karen (Project Reef – South Taranaki). Anything we write here would diminish their stories, so we strongly encourage you to visit the projects via their links and see what amazing things they're doing.. and what you might like to do to participate.
2021 - April
The Taranaki Kiwi Trust (TKT) have signed up to manage our Kiwi Recovery program. We look forward to our collaboration.
2020
Not a lot this year, but we now have monthly trap checking, contracted to WACNZ.
On a sad note, Lisa has resigned as our Kiwi Recovery manager. Thank-you for your mahi over the past few years Lisa and our best wishes go with you.
Phil H and Richard visited VERY late on 1 January, camping off the Braemore Track. We didn't get back until November, when we again set up the camp, but this time we took in a 200L water tank, with the hopes that it will collect sufficient rainwater to reduce the amount we need to carry in.
2017 to 2019
Moumahaki Kiwi Revcovery program
Things are happening apace with the help of a grant from DoC's Community Fund that we are administering on behalf of an wider group of interested parties
The Moumahaki Kiwi Recovery Program has the goal of providing a predator free area for kiwi to flourish - including those kiwi already on the whenua. We are currently caring for our 400ha, and an adjacent DoC block of 200ha
2016 - 21-23 October
The Great Traverse
Finally got to spend a couple of nights on the property (every other occasion we spent on the track - which is paper road). Phil, John, Andrew and Richard spent Friday night at the Mt-Hiwi Trig (or near the remnants), the following night halfway to Braemore Road, then out on the Sunday. Pretty cool, pretty steep, (pretty cold that first night), and pretty stoked!
We'll post the GPS log - but there are few obvious routes - being the ridges, as the valleys are steeply incised.
2016 - 6 Febuary
Special Site Visit
On the occasion of Phil H's birthday, we spent a glorious weekend at the Mt Hiwi Lodge (note, no longer available as at 2018). The weekend was mostly about his birthday, but we managed to also
uplift a 19 day old kiwi chick - or rather Sue from Taranaki Kiwi Trust led the operation - and Phil's parents departed the event early to deliver the little nipper to Rotorua for raising.
run a trap circuit.
run into Dave Bell who confirmed the presence of both long and short tailed bats in the area
Pretty stonking birthday weekend!!!!
2015 - 16 September
Site Visit
Phil H, Richard and Andrew walked the new track cut by WACNZ in May this year. It's a typically steep descent and ascent up to the fenceline. We saw lots of slips - the head of the catchment having a lot of damage - and 16 fewer bird killers.
Thanks to all those others who continue to help in the form of hunting (7 goats a couple of weeks ago, thanks Allan), reset traps (thanks TRC, WACNZ), and the new trapping line (again, WACNZ, TRC and BCF - now the Community Conservation Partnerships Fund).
2015 - 16 April
Site Visit
Phil H and Richard visited during a bit of rain. We decided it wasn't appealing to walk the Heffernan track, so decided to walk to the northern end of Moturoa Road instead. We lunched near the Mt Hiwi trig, then accidentally found it - a 50mm diameter pipe about 50mm above ground level!! We succeeded in walking to our neighbour's corner, but it's not the track that the first part of the road is. More suited to goats, and in places reasonably obscured.
2014 - 16 October
Site Visit
Phil visited with the Taranaki Kiwi Trust for an overnight trip to uplift two kiwi eggs previously located. It turned out there were three eggs(!) but only one live one. The remaining egg was taken to Rotorua to be hatched and will be taken to the Lake Rotokare sanctuary when about a month old. The chick has been given the title Moumahaki.
2014 - 5-7 April
Site Visit
Mixing it up with hunting and maintenance work, Will and two shooting mates slogged after goats over a dry, dry few days, hunting high and low. Richard, Phil, Kez n Joe all kept very much away and amused themselves shifting and setting traps before settling down in Kez's spacious more-of-a-fabric-covered-palace-than-a-tent. Kiwi were heard about 10pm, and also later when Richard proved to be a kiwi whisperer - courtesy some pretty fancy snoring - eliciting a call and response with a close bird some time in the night. The shooters enjoyed a comfortable night at the lodge. The take-away from the weekend was... airbeds good!
2014 - 29 March
Site Visit
Visit by the Taranaki Botanical Group. Thanks people. It'll be interesting to see what you all saw.
2014 - Early March
Site Visit
Visit by Delia, Allison and Will
2013 - 15-17 November
Site Visit
Not really Trust work, but a buncha likely lads from ICONZ and even more supervisory adults spent a night tenting on the track and wallowing in the glory that is descending then ascending hundreds of metres of steep bush. From the sound of it they had a good trip.
One glorious, but sober, note was the amount of rewarewa flower noticed. Promises to be a challenging time controlling an expected explosion of pests next year.
2013 - 25-27 October
Site Visit
Delia and cohorts set up some bird monitoring stations. They also used a recorder overnight down in the wetland. There was a little breeze that night and some inquisitive sounding creatures, oh and kiwi calls!!!. Here're a couple of sound files (as mp3) of some calls, File 1 and File 2, both roughly cleaned up to remove most of the wind noise.
If you'd like them as wav files, then try these links (hosted at mega.nz because we have limited capacity on our site) for File 2 once it's had most of the wind noise removed and amplified a little, or the original file.
Just want to note that, whilst all these trips are going on, so are many more by trap checkers and possum whackers. The never-ending work to protect our ecology continues apace by all and sundry. Many, many thanks to those out there across New Zealand involved with this work.
2013 - 5-7 July
Site Visit
8 of us spent the weekend shifting 50 new DOC200 trap boxes on to the track around our head catchment, including the nice new track that WACNZ made for us. One of the eight was Jake Goonan from TRC, who showed up at a-lot-earlier-than-we'd-expected o'clock on Saturday morning (all the while apologising for being late) with the 50 traps in a trailer. We split into a mix of people who converted the traps to the Friends of Rotoiti bottom hinging ones (soooooo much easier to clean and set), some to lug the reworked traps along the tracks and one Facebook(tm) afficionado to wave his chainsaw around cleaning up the deadfalls across the tracks.
A good time (and macaroni) was had by all, with magic views across to the land from Shaun's place - The Mt-Hiwi Lodge. No connection with the Trust, but a very nice place to launch a day's work from... and to relax back in at night
2013 - 6-7 April
Site Visit
Five of us visited the site, staying overnight in salubrious pup tents. The weekend's goal was to convert the existing and all new DoC200 trap boxes to hinge at the base (idea courtesy of the Friends of Rotoiti), replace as many corroded mechanisms as possible, and to liaise with WACNZ to arrange for the clearance of a trapline from the head of the catchment around the western ridge to join up to the fenceline.
Another big thank-you to Leicester and Brent who have repeatedly returned despite the rigours they (repeatedly) encounter.
Taranaki Regional Council
The TRC are considering assisting the Trust with a biodiversity management plan (TRC link). It'll be a great boost if this goes ahead. And will then tie up all those idle moments we never thought we had. We expect to hear in early July as to whether we make this year's selected sites.
2011 - 26 March
Site Visit
Four of us visited the site, staying overnight at the adjacent Mt Hiwi Lodge so that we could easily get up to listen to the dawn chorus - windy though it was.
We met up with Taranaki Regional Council representatives to discuss options for managing the property, then completed a circuit of the sanctuary area, finally sighting the fabled fence, and noting the fence's ability to mummify goats caught in it. A little fence maintenance was completed, and a weary but jubilant crew returned to Wellington that night. Quite worn out, but what a fantastic piece of land to wander around. Photos to follow.
2010 - 20 October
General Meeting
We'll be at the Southern Cross Bar, 7:30pm, Abel Smith Street, Wellington.
All welcome to attend.
2010 August
Hunting
We have people hunting on the land, the dates being: none scheduled
They are liaising with those who regularly access the property, but please note that we do not want anyone else visiting while hunters are active on the block.
2010 - April
Our Stock-Proof Fence Exists
The stock-proof fence has been completed. This will allow us to complete the covenant on the Reserve Block.
2010 - 13 March
R.I.P. Terry Hefferman
We have received news of the death of Terry Heffernan, from whom the Mt Hiwi Trust purchased the Mt-Hiwi block. Terry had wanted to carry out the work we're doing, but circumstances prevented him from doing so. However, his generosity and patience greatly enabled the Trust to purchase the land and continue with his vision.
2010 - February
A Possible Fencing Tenderer #2?
DoC advise that they are in talks with a training trust, with a view to building the fence in early April.
2009 - December
More Fencers to be Lined Up
Given the lack of action by our contractor, DoC have advised that the tender is to be re-let. Yes, legal action was considered, and no, it's not considered worthwhile. Unfortunately, our moral high ground will be a year behind on being fenced.
2009 - 30 June
The Date for Completion of the Fencing Contract Passes With No Start to the Fence
Absolutely no action has occured on our fence. The materials are all laid out (have been since March), but our contractor is apparently happy doing other work.
2009 - March
Fencing Contrator Signed
A contractor has been signed to carry out a shorter fence than originally envisaged (due to higher than expected labour rates). Completion is expected by mid-year.
2006 - June
All Permits Received - DoC Now to Manage Fencing Contract
We have all the permissions needed to carry out fencing around the entire circumference of the Reserve Block. DoC are to carry out the fencing contract per agreement with the Nature Heritage Fund.
2006 - April
We've received the fencing permit APPLICATION. In discussion with Apex (STDC's consultants for roading work) it appears we just need to sign and return the application - which is what's happening as i type (Richard) February 2006 .... an email from the Taranaki Kiwi Trust
Hi everyone,
Good news; kiwi have been confirmed as occurring at Mt Hiwi
I took out Rowan from the Mt Hiwi Trust on Monday night for a kiwi survey in there.
Between 10pm and 2am (on listening sites) we heard two males and two females within the 300 odd ha property (we covered approx. 2/3's of it in listening coverage). There were a further two possible males, and another possible female, although they were a bit sketchy. So that's four to seven kiwi known to be present!
Directly opposite to where we stayed, 3km south (the log cabin) we heard another two males on the farm there.
I still need to make a map and put in the records etc for this survey - will come in due course. Just thought you might all like to know!
The TKT and the Mt Hiwi Trust are now talking about potential trapping work at the site. They currently have 30 traps over a 2km ridge-track, which will be spaced out further. Another 20 to 30 traps will be made over the coming months by them as well. The TKT¹s new Community Kiwi Programme will make traps freely available to projects like this around Taranaki. The question is now, can the Mt Hiwi Trust commit to the trap checking regime? It is likely they will fund raise to cover trap-checking expenses by a contractor ­ ultimately.
These guys could use a hand with any locally based trappers ­ voluntary at this stage. Anyone know anyone locally in Wanganui/Waverley who might be interested? Please let Rowan via this website - info@mt-hiwi.org.nz
Good on you Rowan for driving the trapping work! Will be in touch.
Cheers
Cees
Cees Bevers
Technical Adviser
*Taranaki Kiwi Trust*
P.O.Box 867, New Plymouth
email: info@taranakikiwi.org.nz
www.taranakikiwi.org.nz
**The Taranaki Kiwi Trust is generously supported by the Taranaki Electricity Trust and the TSB Community Trust.**
2005
Ongoing trapping throughout the year! Still progressing with fencing plans. Meanwhile the land moves through the natural cycles of the seasons safe from interference at large.
2004 - November
More trapping is happening all the time. Also, we are continuing to work on our fencing. Many thanks to all our supporters.
2004 - October
Well spring is truly upon us. As the weather turns - so does the possibilities of spending more time on the Land. We are hoping to take a trip to the land...details follow:
***There is to be a visit to Mt-Hiwi, dependent upon enough people being interested!***
As some may be aware, Michelle hopes to coordinate a trial of a "forest monitoring and assessment kit" (FORMAK).
The intention is to try the kit out to see if it is worth the Trust purchasing one. All are welcome for the tryout, with the idea being for as many people as possible to become adept at monitoring.
The trial is to be carried out on the property over labour weekend
Would all those interested please CONTACT Michelle on info@mt-hiwi.org.nz
This will also be a great opportunity for Trust members to catch up, to see the property, check out the traps that have been placed, and to soak up some great bush.
Details about the kit can be viewed on http://www.formak.co.nz
2004 - September
23/9/05 - email from our Chairperson: Bruce phoned this morning to say that the last check of the traps found 2 stoats and 8 rats!
Take that ya vermin! R.
Well its been a great year for the Trust. Writing to you from early September, we have currently got 40 traps on the land for rats, stoats etc. Many thanks to volunteers and trust members for taking their time and energy (hard walking) to set these traps and to check them.
We are moving closer to fence building and people have been working hard for the past 2 years to make this possible. We have funding approved for a deer fence so its coming together.
Our resident hunter has been on the land a few times - and recently got 6 goats. We will be working towards regular visits to try and keep the goat population down.
There have been a few slips through the land due to the wild weather we have been experiencing. But this is part of the natural order. People accessing the land have found it hard going, and the tracks are often overgrown with trees across them, making visits a bit of a challenge. However, its wonderful to see nature at her wild best!
So, the land is doing well and we are starting to manage the pests in a more aggressive manner. We are also closer to fence building. The covenant should be underway in the next few months. Things do seem to take time but be assured - there are many people working hard in the background.
We are always interested in new members and appreciate any input people have to offer. Please contact us (see below) with any queries and interest.
We have archived the news from previous years, and this can be found in archives.