Mt Hiwi Charitable Trust
Nau mai, haere mai
1 / 4
2 / 4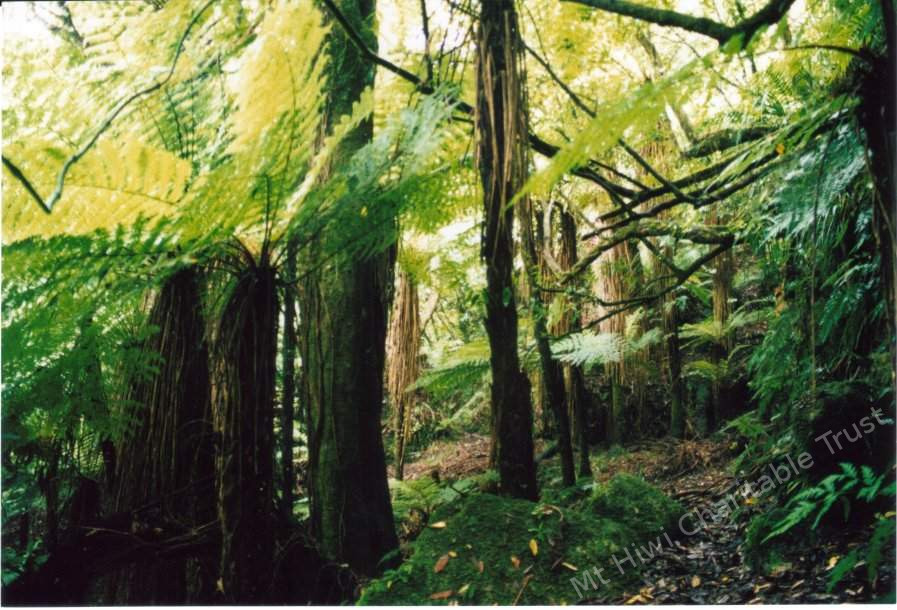 3 / 4
4 / 4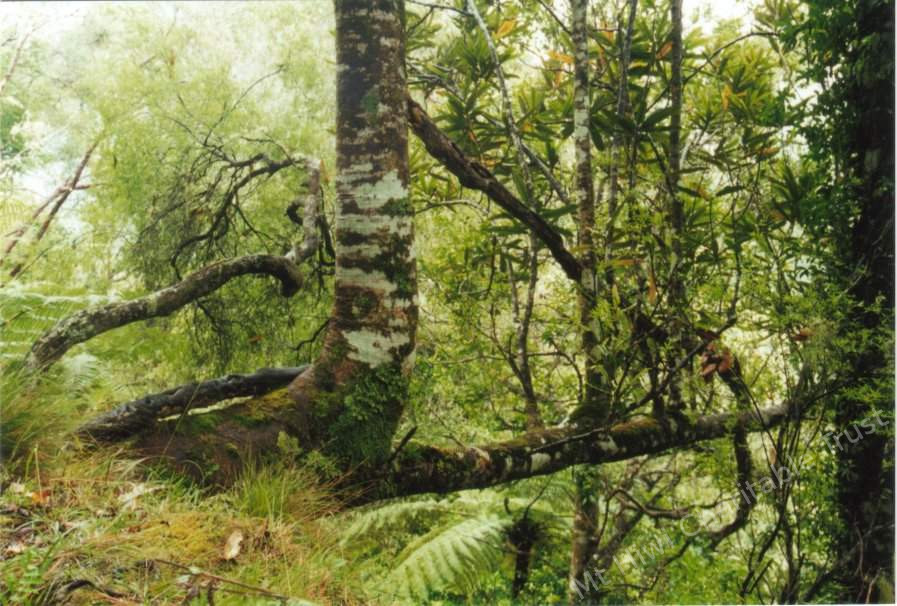 Please feel free to look around. However, the best way to find out what's going on is to email with questions. Note that we're all volunteers, so factor that into your response expectations (note that we have a technical glitch, so our usual email isn't working and we have set up a temporary replacement)!
Please also email us if you have any queries or ideas you think we'd find useful.
We have monitoring, including sound and video, confirming kiwi presence. At right is a photo of the first kiwi chick removed (Feb 2016) for raising in a (currently) more secure sanctuary - say hello to Popokotea!
What is the Mt Hiwi Trust?
The Mount Hiwi Charitable Trust was formed to allow access to, and preserve, indigenous virgin forests and ecosystems in perpetuity.
We are currently looking after 411 hectares (1016 acres) of Trust land and an adjacent 200 ha block of DoC's (see map )
Included in our block is 139 ha of complete virgin bush in a single valley catchment, with the remaining areas, including the DoC block, consisting of mainly regenerating bush
The 139 ha block (the Reserve Block) forms the head catchment of an area identified by DoC as being ecologically significant (a Significant Natural Area, or SNA) and therefore worthwhile protecting. The remainder of the SNA is located on a neighbour's property, as shown on the map (note that the Trust only has access to that part of the SNA that is on our property).
Upcoming Events
All scheduled events are shown on our calender.
Our AGM was held in Waitotara on Sunday 29 May. Despite our tech proving insufficient for the minor demands we made of it., we soldiered through, did what was needed, and had a good korero with Robin and Wayne.
Pest control is ongoing, primarily using DOC 200 traps, Goodnature's A24 rat traps, and experimenting with AutoTraps' AT220s. When intensive possum trapping is occurring, the traps are usually off-ground exposed leg traps.
Hunters will be operating at the property at irregular intervals. All scheduled hunting trips are shown in the calendar.
Please note that hunting is only by prior arrangement for every hunting trip. If you have hunted here before you must still obtain permission prior to every return. For the safety of casual visitors and local landowners, unauthorised hunters will be considered to be poaching.
Our current Health and Safety Plan can be downloaded from our LINKS page
What's there?
WILDLIFE
Brown Kiwi
Toutouwai (North Island Robin)
Tete (Grey Teal)
Puweto (Spotless crake)
Matata (Fernbird)
Popokotea (Whitehead)
Eel
Karearea (NZ Falcon)
Ruru (Morepork)
Short-tailed Bats
Long-tailed Bats
VEGETATION
Tawa
Large Rimu
Beech
Sedge Grass
Rata
Taupo
Toe Toe
Wheki
How Can You Get Involved?
We're always open to any assistance, consistent with achieving our goal.
It can be helping with trapping or hunting pests, monitoring local flora and fauna, maintaining tracks, walking the tracks appreciating the place, donating to help things happen, helping with funding or operations....
Please get in touch - we'd love to hear from you.
To donate, you can pay directly into our account:
Mt Hiwi Charitable Trust
Taranaki Savings Bank
15-3955-0524652-00
please send us your name, email address or postal address so that we can acknowledge your donation and send a receipt.
For info, $10 per month would cover the cost of checking a single DoC200 rat/mustelid trap. We have quite a few traps....
That $10 automatically qualifies you to become a Friend of the Trust. More than that will give you even more surety that we're on the way to making the world a better place.
We are a registered charity, so donations and subscriptions to the Trust of $5 or more are eligible for a tax rebate (we like the idea of more).